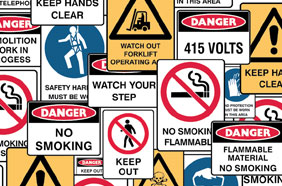 Create a safe work space with an expert safety signage strategy
Do you know the laws around safety signage and best practices?
Australian laws for mandatory safety signage within commercial and industrial settings specify strict guidelines around how they must be presented and displayed. If you don't comply with these stringent guidelines, it will most likely result in heavy penalties. This is where our team of experts can help – we have the expertise and experience to help your business be compliant and safe. SignManager's consulting service includes site audits, strategy development and installation management. This service can include creation of a corporate branding manual, directional signage, site operational and safety signage among others.
We operate within the guidelines set out by Standards Australia AS 1743 Road Signs and Traffic Signals, AS 1742 Traffic Control, AS 1319 Safety Signs for the Occupational Environment and AS 2293.1 Emergency Escape Lighting and Exit Signs for Buildings Part 1: System Design, Installation & Operation.
We'll ensure that your signage is compliant, safe, and your projects completed on time and on budget. These standards set out requirements for the design and use of safety signs intended for use in the occupational environment, road and traffic control, to regulate and control safety related behaviour, warn of hazards and to provide emergency information including fire protection information. These new regulations also include standards for computerised or digital signage instead of purely printed signage. To see how we can help your business stay safe and compliant, contact us today for a free consultation.
WANT TO KNOW MORE? CONTACT US TODAY